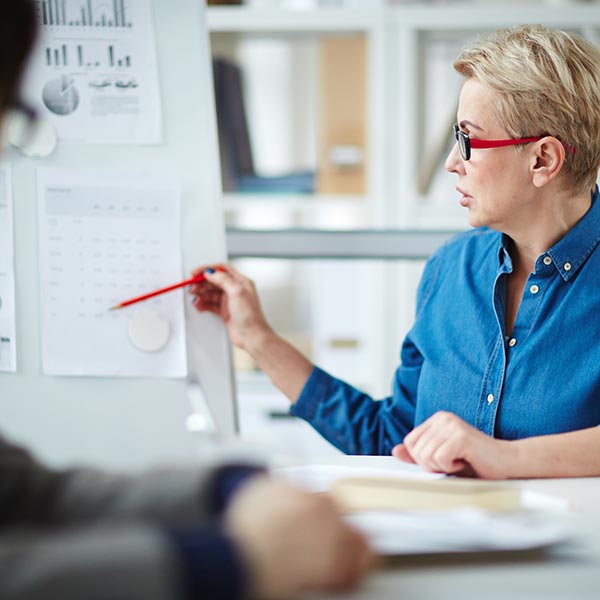 Productivity
Getting the work done
Playbook
The impact of assumptions
Many people assume that disability is equal to an inability to perform many jobs. That's just not true! Anyone that you hire has to be able to perform the main parts of a job. These are known as essential functions. However, an employee with a disability may approach the work differently to accomplish the job well.
What does research tell us?
How well do workers with disabilities perform on the job? Several studies show that workers with disabilities, when accommodated, perform as well or better than those without disabilities. In one study, supervisors rated 72% of the performance of their accommodated employees with disabilities as being average, above average, or excellent.[1] Another study of workers across 18 distribution centers found no significant differences in the job performance of workers with and without disabilities.[2] Finally, supervisors from 13 companies reported nearly identical job performance levels for workers with or without disabilities.[3] These studies also showed that workers with disabilities had lower rates of turnover and the same rate of absenteeism as workers without disabilities.
The findings of these studies tell us that people with disabilities are valuable employees who do excellent work. However, their talents and values are often overlooked or underestimated, because of negative assumptions about people with disabilities.
What if I make a mistake?
Supervisors and managers are sometimes hesitant to interact with employees and applicants with disabilities. This hesitancy can impact people's ability to get jobs and limit opportunities to take advantage of great local talent. It can also mean that small businesses lose good employees because they don't get support. Don't let fear of making a mistake when talking to someone with a disability get in the way. Just be polite and respectful like you are with everyone. If you make a mistake, apologize and move on. If you don't know what to do, it is okay to ask!
Performance expectations
The reluctance to interact with employees with disabilities means that employees with disabilities might be not be as aware as others about unwritten rules or unspoken expectations on the job. As a result, employees with disabilities might not know what great performance looks like in your business. Make sure workers with disabilities get the same clear vision of performance expectations that other employees are given. Expect that they will live up to those expectations and offer feedback when they don't.
Productivity standards
Businesses, both large and small, can and should have productivity standards for jobs that require a certain pace of work. These standards should be realistic, and the same for all employees. Lowering or changing production standards because an employee with a disability cannot meet the standard is not considered a reasonable accommodation. Remember that how the work is completed may be different thanks to reasonable accommodations!
An employee who might be struggling because of a disability
Employees struggle at work for all kinds of reasons. An undisclosed disability might be one. Remember, it's important not to jump to conclusions and suggest that the underlying problem is because of a disability.
What if you suspect a disability might be affecting job performance?
Treat this performance problem as you would any other. Have a private meeting with the employee to discuss the performance issue. In this meeting, describe the performance issue using clear and concrete examples. You can ask two important questions:
Can you tell me anything to help me understand why this is happening?
What can I do to support you in improving this performance issue?
Now, sit back and listen.
If the employee mentions a medical condition or an impairment that could be covered under the ADA, the conversation needs to shift to finding an accommodation. If that happens, put the performance evaluation on hold until an accommodation has been put into place.
If the employee does not mention a disability issue, proceed with the performance management process as you would for any other issue.
The importance of accommodation
Workers with disabilities might need to do things a little differently to perform well. If a worker with a disability is struggling, consider how an accommodation could help. Or, if the person already has an accommodation, see if it needs to be adjusted to be more effective.
The importance of coffee pot learning
Joe, a waiter at an upscale restaurant, was struggling when he started his job.
"I just couldn't get things right. I forgot all the details about what people ordered and it was taking me way too long to get orders out. But another waiter took me aside and told me her system for keeping all the orders straight and satisfying my customers. After that, it clicked and I was able to pick up the rest on my own. I just needed a few tips."
As this example illustrates, co-workers are important sources of learning the best way to perform a job. Workers with disabilities can sometimes be left out of the loop during everyday "coffee pot" talk among workers. And this can mean they are missing out on learning real-life ways to improve their job performance. Encourage your employees to support each other by asking co-workers to share tips with new employees.
Coaching and mentoring
Everyone needs good, real-time feedback to perform at their best. In some workplaces, coaching or mentoring is planned. In others, it happens spontaneously. But when it does occur, job performance usually improves. Research tells us workers with disabilities are less likely to be coached and mentored than others.[4]
If you notice that a new employee isn't making connections, ask one of your employees to act as a mentor to the person. Make sure that all employees have the same access to performance feedback (both positive and negative).
Make the rules of behavior clear for everyone
Employees with disabilities can be held to the same standards of conduct as any other employee. The ADA doesn't protect people with disabilities from breaking conduct rules that are applied to everyone at work, as long as they are job-related and consistent with business necessity. Be clear about what is acceptable and what is not acceptable as some people may struggle to figure out "unwritten rules" at work.
About addiction disorders
Employers can enforce zero-tolerance policies for substance use at work and employees who violate these policies can be terminated, whether or not they have a disability. Yet, employees with addictive disorders do have some rights under the ADA. Employers can't discriminate against a person who has a prior history of substance abuse, but is now in recovery. This is true even if the employee is receiving medication-assisted therapy to support recovery. Also, employers might need to accommodate workers so they can undergo substance abuse treatment.
Staying safe
Employers have the right to ensure the safety of everyone in the workplace. If an employee's disability poses a direct threat to others, that employee can be reassigned to another open position that they're qualified for or terminated if no other jobs are available.
The ADA defines a direct threat as a significant risk of substantial harm to the health or safety of the employee or others that cannot be eliminated or reduced by a reasonable accommodation.[5] To count as a direct threat under the ADA, the safety issue posed by the disability must be objective and based on evidence instead of on vague or unlikely scenarios.
References
[1] Lee, B. A., & Newman, K. A. (1995). Employer responses to disability: Preliminary evidence and a research agenda. Employee Responsibilities and Rights Journal, 8(3), 209–229.
[2] Kaletta, J. P., Binks, D. J., & Robinson, R. (2012). Creating an inclusive workplace: Integrating employees with disabilities into a distribution center environment. Professional Safety: Journal of the American Society of Safety Engineers, 57(6), 62–71.
[3] DePaul University. (2007). Exploring the bottom line: A study of the costs and benefits of workers with disabilities (PDF).
[4] Mukta, K. & Lengnick-Hall, M. (2014). Obstacles to success in the workplace for people with disabilities: A review and research agenda. Human Resource Development Review, 13(2), 158–180.
[5] US Equal Employment Opportunity Commission. (2002). The ADA: Questions and answers.