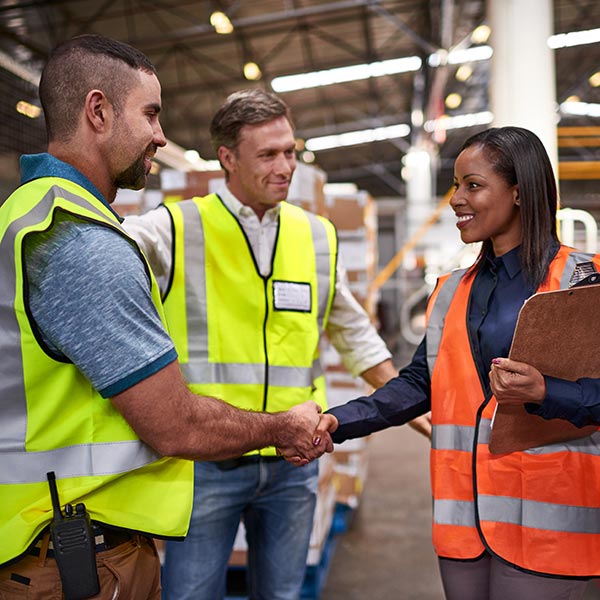 Business Case
How disability inclusion benefits a business
Scenario 1: Josie's Restaurant
Josie's Restaurant is a large restaurant in a small community whose economy is largely based on tourism. Josie's has been a favorite for locals and tourists alike for the past 30 years. Despite having the best burgers in town, Josie's owner was recently stunned by some bad online reviews from customers. One negative review described a situation where a family had come for dinner 3 days in a row and was always seated at a table way in the back of the dining room, next to the restrooms and kitchen entrance. The family attributed this to the fact that one of their children had cerebral palsy and used special utensils and supports when eating.
Shortly after the first negative review, came an even worse review—this one from a person with a visual disability who had come to Josie's with a well-behaved service animal. The host refused to seat this individual indoors, stating that other customers might be allergic to his service dog. Instead, he offered the customer a table outside on a back terrace.
Think about it. What needs to happen?
Josie's owner had more to worry about than two bad reviews. The "rogue" seating host was not only rude, he had violated the ADA more than once. Here's what the owner did:
Removed the host from his current position.
For all staff, clarified expectations around interacting with customers with disabilities.
Leveraged current staff. As it happened, a staff member had a child with cerebral palsy and had been active in a local disability group. The restaurant owner recognized that this employee's experience with disability could help the business. So, she was placed in the position as seating host.
Built staff awareness. The new host connected Josie's owner with a local group who could provide staff training on disability accessibility. Since then, Josie's reviews have been raving about the great burgers rather than ranting about the rude staff.
The takeaway
Twenty percent of the customers dining at Josie's Restaurant were doing so with a disability. Having employees with disabilities on staff can vastly improve the business's ability to reach out to this large segment of their customers.
Scenario 2: Pleasant Valley Lab Services
For 30 years, Pleasant Valley Lab Services has been providing medical test processing services to clinics and hospitals in a large Midwestern city. Pleasant Valley pays competitive salaries and takes pride in having a positive workplace, so there is little turnover among most employees. Recently, there has been very high—and very costly—turnover among lab equipment cleaning staff, many of whom are reaching retirement age.
Over the past couple of years, turnover in this position has increasingly held up the entire operation and resulted in longer wait times for customers. When lab equipment is not sterilized, checked, and re-stocked, everything is held up. The company has put ads in the paper and used local media to advertise with little success.
Think about it. What needs to happen?
Consider new solutions. Pleasant Valley's business owner decided they needed to try something different. He met with staff to get ideas.
Create new partnerships. One of the medical technicians at Pleasant Valley had heard of other companies who had partnered with a local Employment Services Center to recruit new candidates. This center had partnered with a local business to reduce turnover problems in positions that involved routine job tasks, such as equipment cleaning and restocking. The center had analyzed the job tasks to better understand the job and the skills required to do it well. All this at little or no cost to the employer.
Try it out. Pleasant Valley's business owner and HR specialist reached out to an Employment Services Center in the community. After meetings and a little research, Pleasant Valley decided to try this option. The center staff came to Pleasant Valley to analyze the job tasks and competencies for the lab equipment cleaning position and then referred qualified applicants for the position. The center provided additional support to the new employees to ensure they were comfortable with the job tasks after the company provided the initial training. The center also supported Pleasant Valley by providing training on working with people with disabilities.
The takeaway
Initially, the new hiring program took a little effort on the part of Pleasant Valley. But after it was in place, the results were clear. Turnover went down precipitously. The new employees performed well and had higher levels of productivity than their predecessors. And, as an unexpected bonus, the job aids developed by the Employment Service Center staff benefited not only the employees with disabilities, but everyone else too.
The scenarios, including all names, characters, and incidents portrayed on this page are fictitious. No identification with actual persons (living or deceased), places, buildings, or products is intended or should be inferred.